Claremont High School Alumni Society
1911-2022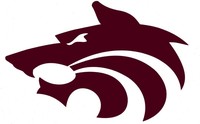 In Memory
Barbara "Barb" Bolinger (Mitchell) - Class Of 1964
May 21, 1946 - Sep 3, 2014
---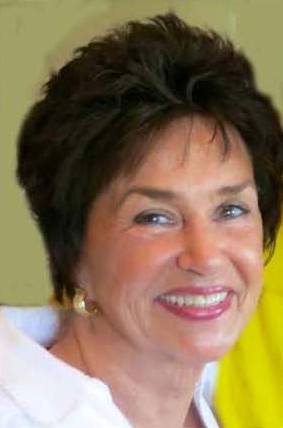 Barbara Bolinger Mitchell, after a valiant 6.5-year battle with colo-rectal cancer, died early in the morning of September 3rd at her Palm Desert home, surrounded by family and friends whom she loved, and who loved her deeply. Typical of Barbara's spirit, throughout her long illness she fiercely powered through every situation and obstacle that confronted her, until she finally exhausted all her options.
Born in Pomona, California on May 21, 1946, to Bob and Evalynn Bolinger, she was raised in Claremont. As a youngster she especially enjoyed riding alone on horseback, often bare-backed, for hours at a time in the local foothills, loving the total freedom and the wind in her hair. At Claremont High School, she was athletic, belonged to the GAA, and she played all the sports with great energy. Her high school classmates remember her infectious laughter - a fun-loving, somewhat rebellious person, who knew how to enjoy life. She graduated from Claremont High School in 1964.
Barbara attended Arizona State for 2 years after High School, and, interleaved with marrying William Steiner of Claremont and starting a family, eventually received her A. A. Degree in Interior Design from the Design Institute. Throughout her long working career, as an interior designer, she served many real estate accounts nationwide. She held marketing positions with firms such as Technicolor Inc., and worked in the advertising industry producing print, radio and television campaigns.
Living her last 18 years in Palm Desert, she became an avid and able golfer (and a delightful golfing partner), and was a valued contributor to the Avondale community. President of the Avondale Women's Golf Club for two years, she organized many golfing and social events. She was known as the "life of the party," and never missed a party if she could help it. Always enthusiastic, totally determined, and committed to the tasks at hand, she was a member of the Club's Golf and House Committees, and when it came to redesigning facilities, choosing paint colors or furniture, Barbara was the "go to" person upon whom others depended for her creative leadership and decision-making skills. Even through the struggle with her cancer, she still gave 120% of herself in effort, until just recently, when she could finally give no more to her beloved Avondale.
To know Barbara was to love her – she was a beautiful, vivacious, and warm person who was always contributing to the good humor of her surroundings. She was quick to laugh, quick-witted, and fun to be around. She will be missed by her world of relatives and friends who knew and loved her. She was pre-deceased by her husband Jay Mitchell (d. 2011), and is survived by: her sister Jane Bolinger Reed (husband John), of Los Altos, CA, her brother Bill Bolinger (wife Ann Kailani Jones), of Fallbrook, CA, her son Scott Steiner (wife Nicole), of Cave Creek, AZ, with grandsons Brenden, Jackson, and Greyson; her daughter Mindy Green (husband Patrick), of Huntington Beach, CA, with granddaughters Samantha and Jaylene, and her nieces Robyn Reed of Cambridge, MA, and Heidi Reed of Pawtucket, RI. Additionally, she is survived by her step-brother Terry Stratton of Carmel Valley, and former husband Richard Rakes of Palm Desert.
A celebration of Barbara Mitchell's life will be held on January 11, 2015 at the Avondale Country Club, Palm Desert, at 3:30 PM. Per Barbara's wishes, in lieu of flowers, charitable donations (i.e., 501(c)3) in Barbara's memory may be made to support Dr. Lawrence Leichman's oncology research at NYU Langone Medical Center. Go online to http://giving.nyumc.org/ci, then select "GI Cancer Research Fund" from the dropdown menu. Under "In Honor/Memory of" Click the button for "In honor or memory of someone" and then type "Barbara Mitchell;" OR send a check made out to "NYU Langone Medical Center" to: NYU Langone Medical Center Office of Development, attn. Jeff Hudson, One Park Avenue, 17th Floor, New York, NY 10016. Note: Dr. Leichman's research, in honor/memory of Barbara Mitchell.
To help improve the Avondale that Barbara loved, send (non-tax-deductible) donations to: Avondale Golf Club, Barbara Mitchell Special Projects Fund, 75-800 Avondale Drive, Palm Desert, CA, 92211.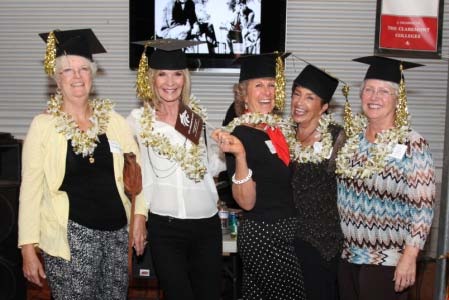 Barb celebrates with fellow 1964 Golden Grads at 2013 Homecoming
---