Claremont High School Alumni Society
1911-2021
In Memory
Robert Clement Frampton - Class Of 1928 VIEW PROFILE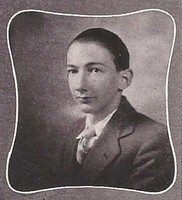 Dec 13, 1909 - Aug 2, 1989
---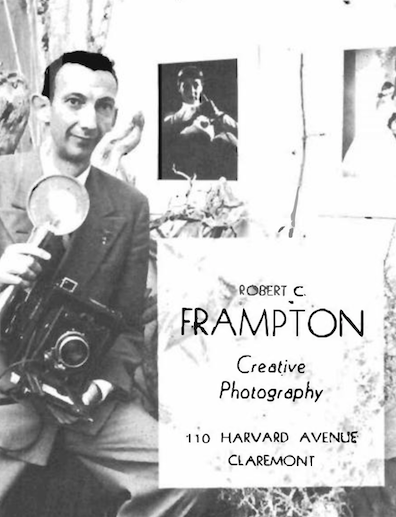 "Mr. Fireworks" - Photographer:
Robert C. Frampton was a popular local photographer who began his career as taking nature photos for the U.S. Forest Department. He distinguished himself as a pioneer in aerial photography as well as documenting the history of the growing city of Claremont and surrounding communities.
He was called upon to take photos of generations of Claremont families and school children, especially during special events such as weddings, graduations and community events. The Honnold Library houses an extensive collection of his work, including shots of scenic mountains, architecture and businesses in and around Claremont.
In this way, Mr. Frampton has left us an unparalleled legacy of historical photographic documentation of the history of the City of Claremont and its schools and colleges. Mr. Frampton was the original pyrotechnic specialist for the Fourth of July Firework display sponsored by the City of Claremont.
Notes from son Rick Frampton CHS '61:
Dad was born on 10th and Harvard Avenues in Claremont. My Grandpa was the English prof. at Pomona Colleges when they first opened.
Mu Dad spent his whole life in Claremont except when he and mother lived at Florence Lake while working for Edison Co.
He went to kindergarten there, he went to Sycamore Elementary school there, and he graduated fro the old CHS up on Foothill, the same one we went to. He then did all of his college at Claremont also.
Dad is, was, as native Claremonter as you can get.
My father who was nicknamed " Mr. Fireworks " by the City Of Claremont.
This story all starts wth a young boy growing up in Claremont back in the very early days. He was born in 1909 on 10th and Harvard Ave. As he was growing up he was very interested in the Science of everything, so he got very interested in Fireworks, what made them work, how could they be bigger and better, etc! and he pursued this passion along with Art & Photography all of his life.
As a young man, after moving back to Southern California after coming out of the High Sierras where he had been working for So.Cal. Edison Company, he studied for a Pyrotechnics License which would allow him to legally work with Fireworks. After getting his license, he applied for a job doing the 4th of July shows at the Rose Bowl in Pasadena. He did those fireworks shows for the next 3-4 years at the Bowl.
In 1944-45 he came back to Claremont and opened up his first photography studio on Harvard Avenue next to Rockys Laundromat. He immediately went to the City of Claremont and proposed that he would do the Fireworks Shows for them every year. At the time Cronkites was doing them but within the next year or so the City said "O.K., "FRAMP" you got the Job".
My Father started to line up a crew of his old school buddies, people he grew up with, Roger Johnson, son of J.D. Johnson who owned all the groves above Foothill Blvd, Fred Shelton, son of the famous Sheltons Turkey Ranch in Pomona, and other local city fathers. They started out on a very small budget, made all their own set pieces from scrap lumber that they would get from the dump, anything else they could get that they could use, and they did the shows every year on the grounds of the colleges. I believe that they did some shows on the grounds of CMC, and then later on the Pomona College Football field where CHS Wolfpack played thier home games. All the set pieces were on the upper field, and the big mortars were all set up on the lower field.
It became a real ritual every year that required the help of all the men on the Crew for three days, and the wives would work with my Mother in her kitchen preparing food all day so as to be able to feed the workers lunch and dinner each day, out in our backyard. As all of us boys got older we would get to actually go down to the fields and start helping the Dads, and eventually becoming of legal age ( 16 ) where we could help the Fathers light off the set pieces and the big mortar shells. At the end of each work day, the crew would come back to our house , into the back yard for snacks and sodas , coffee, ""BUT-NO BOOZE"" The huge metal pail out back would continue to fill for three days with cans of beer, staying cold in ice water,"DADS RULE-NO ALCOHOL" until the actual Show was complete.
I remember that after the show was put on for the community, and things were cleaned up and deemed fire safe by the fire dept. there started to be a second 4thy of July show in our back yard. Dad would say, "O.K. Men, have a beer, and they would make sure the bucket was empty and the wives (MOMS) could finally come out and relax, all the food was out, this was the final party for the 4th in our yard until the next year.
July 4th time of year is hard for me. I miss my Dad so very much, my Mother also, and as soon as the fireworks stands open , and the shows are going on, it gets really hard for me. My Dad went on to do this along with Mother's help for the City of Claremont for the next 30 years, and when the city found out that he was going to retire from doing the shows he was the Claremont 4th of July parade's Grand Marshall. He and my Mother and my son Randall who was three/four years old rode together in a special car at the head of the Parade. That night at the conclusion of his last Fireworks show, the City presented him a plaque that says:
"ROBERT FRAMPTON" ( MR. FIREWORKS ) For bringing us the joy and excitement of the 4th of July ** For your unselfish Community Service and Dedication ** We thank you. The Citizens of Claremont.
Mr. Frampton was also the unofficial, official photographer for the City & Claremont schools, taking photos of everything from scenic mountain views to school photos to shots of stores and homes. His enormous collection of work is in the Special Collections Department at Honnold Library.
Click here to see Robert Clement's last Profile entry.