Claremont High School Alumni Society
1911-2020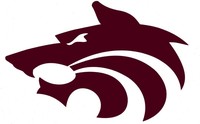 In Memory
Richard E. "Dick" Strehle - Class Of 1937 VIEW PROFILE
July 12, 1919 - Oct 22, 1944
---

Los Angeles Times Dec 1, 1944
---
Our own, Silver Cross hero, Lt. Richard Strehle served with the 7th Infantry Division at Kwajalein and Leyte.
He was born on July 12, 1919 in California. His parents Robert and Martha were born in California and Massachusetts, respectively. His father, a WWI veteran, worked as a fruit canning company foreman and later as a teacher and track coach at Pomona College. Richard had two younger brothers. By 1940 Richard was living at home and had completed two years of college. While attending Pomona College to study geology he was a star athlete in both football and track.
He became a first lieutenant in Company A, 1st Battalion, 32nd Infantry Regiment, 7th Infantry Division. The 32nd IR played a major role in retaking Attu Island from the Japanese in May 1943. It next saw action on Kwajalein in February 1944.
On Kwajalein, Lt. Sterhle was awarded the Silver Star for single-handedly wiping out a Japanese pillbox.
He was killed in action on October 20, 1944 on the first day of the invasion of Leyte, although for some reason his gravestone is dated October 22.
In 1945 Pomona College set up a $10,000 geology department scholarship in Lt. Strehle's name. The scholarship is still active today. The track at Pomona College is named for his father.
---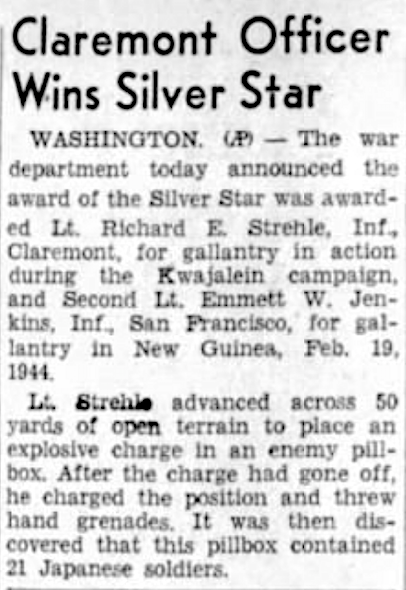 Los Angeles Times - Sept 5, 1944
---

Los Angeles Times - Jun 26, 1945
---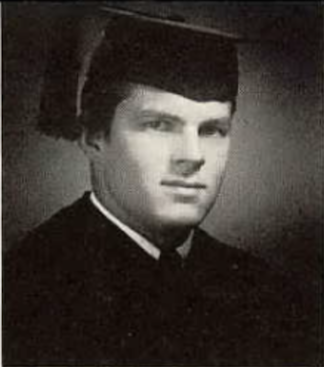 Pomona College - 1941
---
Richard was killed in action in the Philippines during World War II.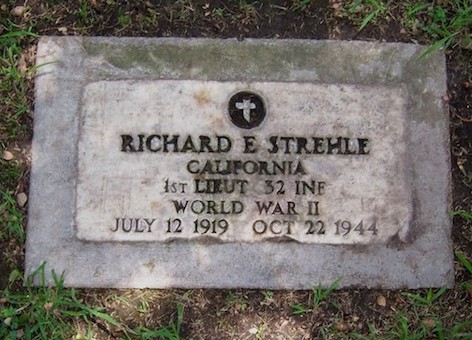 Oak Park Cemetery - Claremont, California
---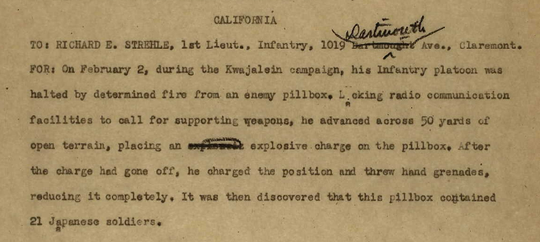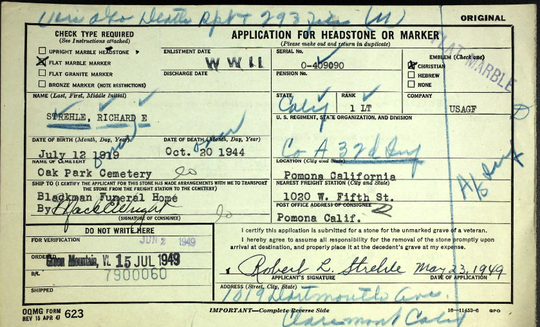 Click here to see Richard E. "Dick"'s last Profile entry.